VIR Full Course Telemetry for Porsche 964 Turbo with Brian Keith Smith doing a 2:06
From Trackpedia
Data files for this run can be downloaded at:
  * G2Extreme rpk files
  * G2Extreme lap file

Here is data for Brian Keith Smith driving his heavily modified Porsche 930 turbo. This is the build sheet for the car.
  * 1987 911 turbo (930) – not a 964
  * 3.3L turbo
  * 3.2 intake
  * Electromotive fuel injection
  * Twin plugged
  * ERP 935 front suspension
  * Stock trailing arms with elephant racing monoballs
  * 315's in the rear, 245s up front – Hoosiers – that run that I sent you was the 20th heat cycle
  * Fiberglass hood/doors/fenders/bumpers/tail
  * 2550lbs wet
  * 447RWHP
  * 993TT calipers up front, stock 930 calipers in rear
  * Hargett Precision shifter
  * Kirkey Road Race Deluxe Seats
  * Fuel Safe fuel cell
  * 16qt oil tank
  * NO rear sway bar

Heres the lap map and corner by corner analysis for Virginia International Raceway.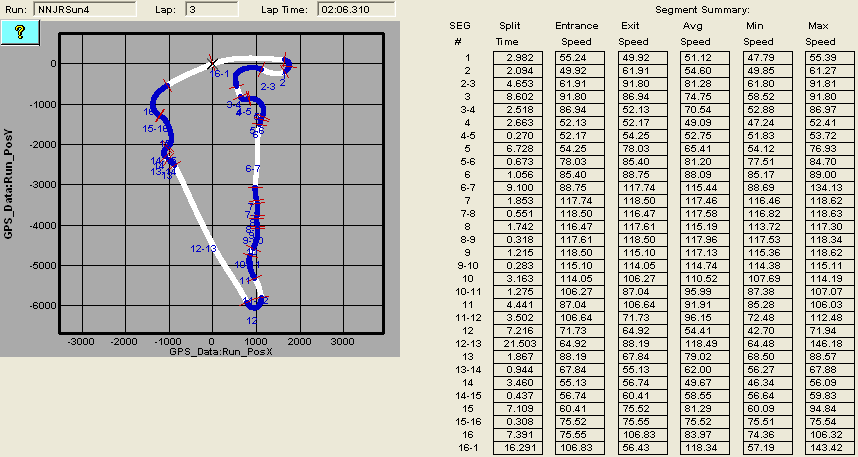 Heres the min/max/avg track data. The lateral G numbers are those from the accelerometers and are really high. The GPS lateral G calculates to lower but still very impressive numbers of -1.4 and 1.7G.

Here is a G-G plot.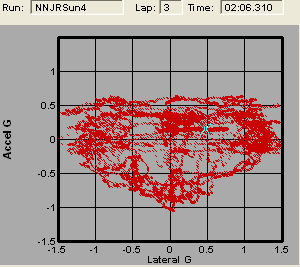 Heres an mph graph with long G overlaid for braking points. It's correlated with the corner segment.

Heres an mph with both long and lat G overlaid. It's correlated with corner segment.