Circuito de Jerez
From Trackpedia
Track Summary
Web site: http://www.circuitodejerez.com/
Address: Jerez de la Frontera, Cádiz, Spain
Introduction

Circuit of Jerez is a 4.428 m. racing circuit located deep within the sherry-producing south of Spain.
Built in 1986 to host the Formula One Spanish Grand Prix, the circuit's remote location never allowed significant spectator turnout. Despite some great racing, including a race won by Ayrton Senna by 14 thousandths of a second, F1 moved to Barcelona following the 1990 race.
However, in 1994 Jerez instituted safety changes throughout the circuit, including a new chicane (the Senna curve) at the corner where Martin Donnelly had an appalling accident in 1990. As a result, Jerez hosted the European Grand Prix in 1994 and in 1997. Actually the F1 use it for test only.
While the circuit currently does not host an Formula 1 race, it is often used a venue for testing by the teams.

El Circuito Permanente de Jerez es un circuito de carreras de 4.428 m. de longitud, situado en las afueras de Jerez de la Frontera (Cádiz), en el Sur de España.
Construido en 1986 para albergar el Gran Premio de España de Fórmula 1, su localización apartada dificultó el éxito en asistencia del público. A pesar de algunas grandes carreras, como la victoria de Ayrton Senna por sólo 14 milésimas de segundo en 1986, un terrible accidente protagonizado por Martin Donnelly a 200 km/h durante las calificaciones de la carrera de 1990 apartó al circuito del calendario oficial.
Sin embargo, en 1994, Jerez realizó algunos cambios de seguridad en el circuito, incluyendo una nueva chicane en la curva Senna. Debido a ello, Jerez volvió a ser sede de Fórmula 1, esta vez del Gran Premio de Europa en los años 1994 y 1997. Actualmente la Fórmula 1 lo utiliza como pretemporada.
Track Map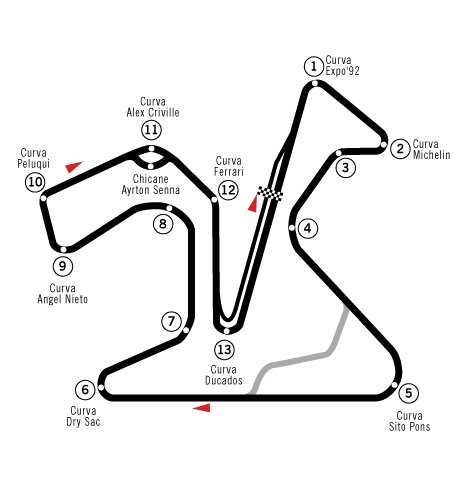 Weather Forecast
Current Conditions: Showers in Jerez de la Frontera, ESP (as of 8:00 PM 4/2/2...

Current conditions (as of 8:00 PM)


Showers. 55°F (Feels like 55). Humidity: 88% Winds: 13 mph WSW.
All times shown are local to Jerez de la Frontera, ESP.
Detailed ten-day forecast   Hourly weather forecast    Weather maps    Weather averages
Forecast for Wednesday, April 02, 2014 for Jerez de la Frontera, ESP

Today: T-storms.
Lo: 48°F. Hi: 65°F. Chance of precipitation: 95%
Tomorrow: Showers / Clear.
Lo: 47°F. Hi: 64°F. Chance of precipitation: 60%
Friday: Partly Cloudy.
Lo: 48°F. Hi: 65°F. Chance of precipitation: 2%
Saturday: Partly Cloudy.
Lo: 54°F. Hi: 75°F. Chance of precipitation: 10%
Sunday: Fair.
Lo: 53°F. Hi: 81°F. Chance of precipitation: 2%

More information at MSN Weather
(Data provided outside US and Canada by Foreca, Data provided for US and Canada by WDT)
Typical Lap Times
Porsche 993 cup
?:??
Spec Miata
?:??
Dodge Viper
?:??
Add your car here and make this board better
Videos
Motocycle video of Jerez
More videos on the web