Circuit de Valencia
From Trackpedia
Track Summary
Web site: http://www.circuitvalencia.com
Address: Cheste, Valencia, Spain
Introduction

The circuit of Cheste excels for its functionality and polyvalent feature that allows it, thanks to its small links, to have two independent circuits: one of 1.300 m. full of bends, ideal as training circuit, and other in the outer part that has 3,100 metres and an 876 m. straight line.
It's name is circuito de Ricardo Tormo (a local popular rider of motorbikes), but populary called circuito de Cheste for this situation.
Was make in year 1999.

El circuito de Cheste es un complejo polivalente que puede albergar independientemente 2 trazados, uno de 1.300m. y otro de 3.100 , con una recta de 876 m.
Se llama circuito de Ricadro Tormo (un campeón del motociclismo), pero popularmente es mencionado como circuito de cheste devido a su ubicación.
Fué construido en 1999.
Track Map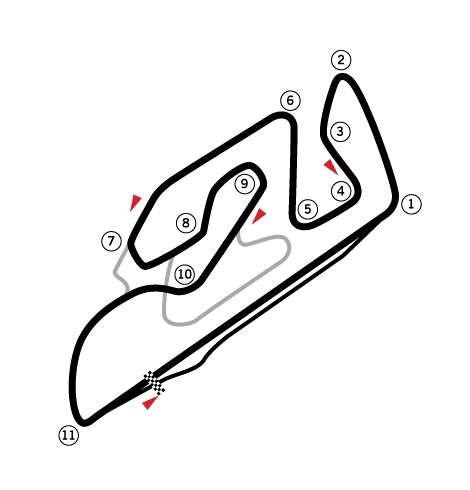 Weather Forecast
Current Conditions: Partly Cloudy in Valencia, ESP (as of 3:30 AM 3/31/2014)

Current conditions (as of 3:30 AM)


Partly Cloudy. 54°F (Feels like 54). Humidity: 100% Winds: 0 mph.
All times shown are local to Valencia, ESP.
Detailed ten-day forecast   Hourly weather forecast    Weather maps    Weather averages
Forecast for Monday, March 31, 2014 for Valencia, ESP

Today: Partly Cloudy.
Lo: 48°F. Hi: 71°F. Chance of precipitation: 2%
Tomorrow: Mostly Cloudy.
Lo: 52°F. Hi: 67°F. Chance of precipitation: 2%
Wednesday: Showers.
Lo: 56°F. Hi: 68°F. Chance of precipitation: 55%
Thursday: Sprinkles.
Lo: 56°F. Hi: 68°F. Chance of precipitation: 40%
Friday: Partly Cloudy.
Lo: 58°F. Hi: 74°F. Chance of precipitation: 25%

More information at MSN Weather
(Data provided outside US and Canada by Foreca, Data provided for US and Canada by WDT)
Typical Lap Times
Porsche 993 cup
?:??
Spec Miata
?:??
Dodge Viper
?:??
Add your car here and make this board better
Videos
More videos on the web