Circuito de Albacete
From Trackpedia
Track Summary
Web site: http://www.circuitoalbacete.com/
Address: La Torrecica, Albacete, Spain
Introduction

The Circuit of Albacete is an speedway at 3,7 km. of Albacete, Spain. It's situated in an are known as "La Torrecica" or also known as "Circuito de la Torrecica". It was inagured in 1990.
The primary circuit is 3.539 m. of lenght and it can be separed in 2 independent tracks, doing a secondary track of 2.237 m. and a third track of 1.336 m.
All the track is goodly lighted, it's right for a nocturn races.

El Circuito de Albacete es un autódromo situado a 3,7 km. de Albacete, España. Se encuentra en el paraje conocido como "La Torrecica", por lo que es conocido también como "Circuito de La Torrecica". Fue inaugurado en 1990.
El circuito primario o principal es de 3.539 m., desglosándose en dos circuitos independientes de 2.237 m. secundario y un terciario de 1.336 m.
La totalidad del trazado dispone de iluminación, lo que permite la realización de pruebas nocturnas.
Track Map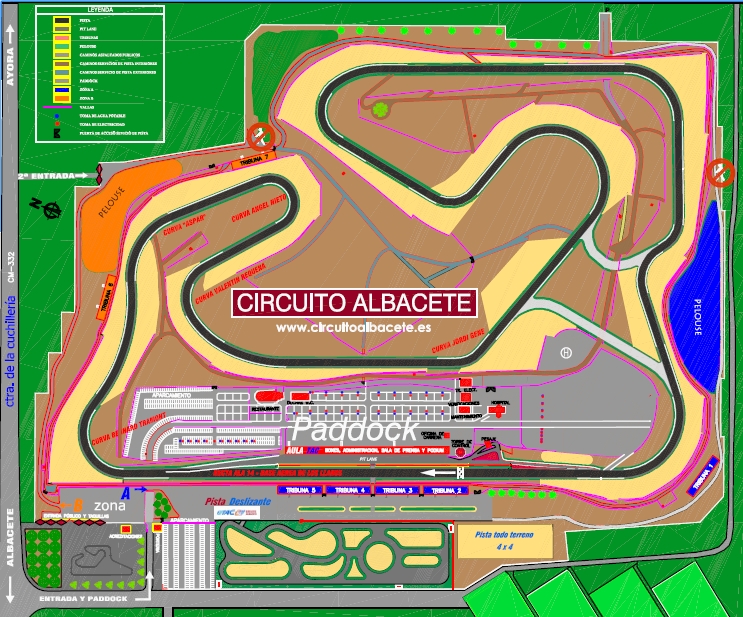 Weather Forecast
Current Conditions: Partly Cloudy in Los Llanos, ESP (as of 7:00 PM 3/30/2014)

Current conditions (as of 7:00 PM)


Partly Cloudy. 55°F (Feels like 55). Humidity: 51% Winds: 16 mph WNW.
All times shown are local to Los Llanos, ESP.
Detailed ten-day forecast   Hourly weather forecast    Weather maps    Weather averages
Forecast for Sunday, March 30, 2014 for Los Llanos, ESP

Today: Sprinkles.
Lo: 37°F. Hi: 58°F. Chance of precipitation: 55%
Tomorrow: Partly Cloudy.
Lo: 41°F. Hi: 65°F. Chance of precipitation: 30%
Tuesday: Cloudy.
Lo: 45°F. Hi: 67°F. Chance of precipitation: 25%
Wednesday: Showers.
Lo: 42°F. Hi: 60°F. Chance of precipitation: 90%
Thursday: Showers / Clear.
Lo: 42°F. Hi: 54°F. Chance of precipitation: 90%

More information at MSN Weather
(Data provided outside US and Canada by Foreca, Data provided for US and Canada by WDT)
Typical Lap Times
| | |
| --- | --- |
| Renault Clio CUP | 1:43:56 |
| Hyunday Getz CUP | 1:52:+ |
Videos
Honda Civic Type R Gr. N
More videos on the web